mission
To give assistance to the elderly, sick and handicapped by providing financial support and medical assistance as needed.
To provide humanitarian support and relief assistance to communities affected by natural disasters.
To help and support other charitable foundations, institutions and other governmental / non-governmental organization(s) in achieving their various advocacies.
volunteering
We welcome volunteers who share with us their passion, skills, and time in helping those in need. We recognize that volunteers make a valuable and vital contribution to the effective operation of community based services. When based on sound principles, volunteering benefits the volunteer, the organization, its program and its beneficiaries. These are our policies which are designed to meet the needs of the organization and its volunteers, and to ensure the most effective results for all.
Goals & Objectives
To donate funds for medical needs of ailing children in chosen hospitals.
To help selected homes for the aged by providing equipment, food, clothing and other supplies.
To reach out to the children of poor families in rural schools by providing uniforms, slippers and school supplies.
To reach out to poor victims of natural disasters and tragic accidents.
To provide some of the needs of disabled persons from poor families.
To support and bring cheer to orphans and indigents.
The Little Swallow Inc.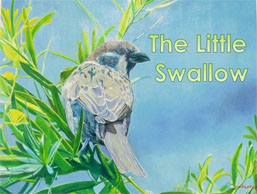 "THE LITTLE SWALLOW, INC. (TLSI) is a non-profit, non-government organization (NGO) for the upliftment of the poor, vulnerable, and disadvantaged sectors of our society. On December 21, 2012 TLSI received its certificate of Incorporation from Security and Exchange Commission (SEC). We are also registered and licensed with the Department of Social Welfare and Development (DSWD) with Registration Number: DSWD-NCR-R-000222-2013."
The name, "The Little Swallow" was inspired by the story of "The Happy Prince" by Oscar Wilde. This is the story of a statue that was gilded with leaves of fine gold and adorned with precious stone gems. Yet ironically, he was sad. He had seen all the ugliness and the suffering of many people in his city. There standing alone, he can do nothing but to weep, feeling gloomy and useless, tied to the fact that he was not able to do anything. He was a mere statue. As this bitter realization struck him, all the more he wept, for he could do nothing to uplift the spirits and help his people in their miseries. Then came a little swallow. He was about to take a short rest with him, on his way to Egypt. The Happy Prince begged the little swallow to stay for the meantime and help him help his people. This he did by having the little swallow take his precious stone gems and gave all away to his very poor and needy people.
In the same way, The Little Swallow, is an instrument where your kindness and generosity will be able to touch and help directly the lives of those who are in need.