tlsi volunteer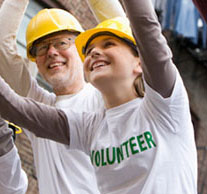 We welcome volunteers who share with us their passion, skills, and time in helping those in need.
We recognize that volunteers make a valuable and vital contribution to the effective operation of community based services. When based on sound principles, volunteering benefits the volunteer, the organization, its program and its beneficiaries. These are our policies which are designed to meet the needs of the organization and its volunteers, and to ensure the most effective results for all.
conduct
VOLUNTEERS ARE EXPECTED TO CONDUCT THEIR DUTIES IN AN HONEST MANNER. ORGANIZATION EXPECTS VOLUNTEERS:
To operate within right and fairness principles.
To address areas of conflict with appropriate staff member
To undertake training and have good understanding of the program, when applicable
To acknowledge decision made by staff.
To be committed to the program, where relevant.
To be accountable and accept evaluation.
To give feedback, communicating relevant important information.
To represent the interest of the organization-not self interest
To respect confidentiality.
To notify the Coordinator if you are running late.
To arrive on time
To be reliable.
responsibilities:
Undertake voluntary work according to training, the policies and practices of the organization
Fulfill the individual agreement with the organization in a reliable and dependable manner
Participate in the cooperative team effort to achieve the goals of the organization.
Be willing to accept direction from the Coordinator.
Accept the privacy and dignity of staff, beneficiary and fellow volunteers and follow the organization guidelines for privacy and confidentiality.
Advise the Coordinator as soon as possible with respect to any change in availability.
Maintain a positive, optimistic and non-judgmental attitude.
Undertake training, evaluation and participation in support group as required.